Mooner Ranch

First Seen:

Next Location

Local Baddie

Game

Previous Location

Mooner Ranch is the first location.

Last Seen

Challenge

NONE!

Milk Race
Mooner Ranch
is the first area in
Steak and Jake
. Its local baddie is the
Mooner
. This area is named after said local baddie, and the fact that is based around a ranch. It is suspected that this area is the home of Steak and Jake. The tutorial and
Trailhead 1
are based in Mooner Ranch. At this typed milk race, we are in one of the final races.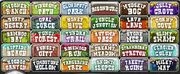 Appearence
Edit
Mooner Ranch has a grassy patch at the top and dirt under the patch. Usually, you'd see more of the dirt. But on smaller blocks, there may be more grass. There can be darker browns than others in the dirt giving the dirt something like sun spots: darker areas.
Ad blocker interference detected!
Wikia is a free-to-use site that makes money from advertising. We have a modified experience for viewers using ad blockers

Wikia is not accessible if you've made further modifications. Remove the custom ad blocker rule(s) and the page will load as expected.